Welcome, welcome, welcome. We're at the fifth instalment of Ricemedia's Digital Marketing Monthly Round-up, and I don't want to alarm you, but this can only mean one thing – we're officially half way through 2018. From the Royal Wedding to the official roll out of the new General Data Protection Regulations, May has certainly been a mixed bag, with a lot going on. Deadpool 2 and Solo: A Star Wars Story hit the cinemas, it was announced that 'You' by Caroline Kepnes has been made into a new Netflix series (hello, Penn Badgley) and a few of us (myself not included) got super excited when the Love Island participants were announced. Ricemedia welcomed a new Technical SEO wizard to the team.  May has been a huge month for the world of Digital Marketing – especially in terms of social media, SEO, PPC and Digital PR. It's come to that time of the month where you pop your feet up, put the kettle on and have a browse through 10 things you may have missed in Digital Marketing in May!
1. Google's New Ad Type Targets People Watching YouTube on TV
At the beginning of May it was announced that Google introduced a new ad type that's designed to capitalise on the increasing trend of people watching YouTube videos on TVs. YouTube has become a standard on smart TVs and is easily accessible through Chromecast, games consoles and Apple TV. According to the article on Search Engine Journal, users spend a combined total of 150 million hours a day watching YouTube on television screens, making it the fastest growing medium. Check out the article here.
2. Instagram has introduced new sliding emoji features
This month, Instagram introduced another brand new feature to their social media platform – an emoji with a sliding scale, allowing users to give the person who's posting their opinion about something. The emoji in the slider changes as it moves up and down the scale — it uses emojis such as a blank face emoji, thumbs up or face with heart eyes. We think this emoji is pretty cool and offers a great scale of interactivity. Check it out here.
3. We looked at the history of the Google Doodle
In May we thought we'd have a look at the history of the Google Doodle and find out how it has evolved through the decades. From the very first Google Doodle being used as an 'Out of Office', to some Google Doodle controversies, here's everything you need to know about the history of the Google Doodle.
4. Google dropped 'Don't Be Evil' from its Code of Conduct
On May 19th, Mashable reported that Google had removed the motto, 'Don't be Evil' from its Code of Conduct, and no one is really sure why… 'Don't be Evil' has had its own section in Google's Code of Conduct since 2000. Now, it has been removed, but the Code of Conduct still states, "…And remember… don't be evil, and if you see something that you think isn't right – speak up!" It still states we shouldn't be evil, but there's no longer a motto… Read it here.
5. Facebook removed 1.9 million pieces of Extremist Content in Q1 of 2018
Last month Facebook released their first Community Standards Report to the public. The report included their overall Transparency Report following the Cambridge Analytica data breach, and reported that they had removed over 1.9 million pieces of Extremist content, 21 million pieces of content containing sexual activity and adult nudity and 3.5 million pieces of content going against their graphic violations policies. All of this was detected and taken down by Artificial Intelligence. Check it out here.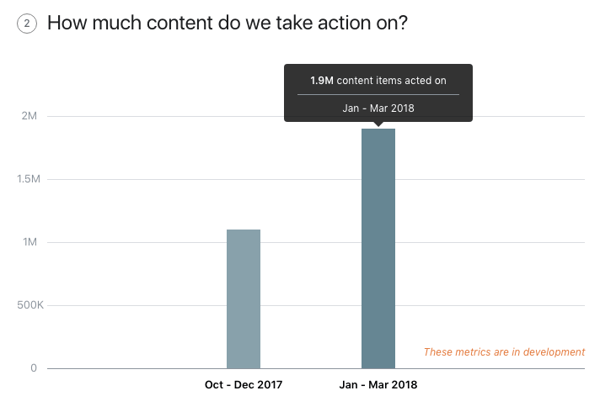 6. We looked at how GDPR will impact Google Analytics
On May 25th the new General Data Protection Regulations came into practice. This means that every organisation doing business with citizens in the EU must have complete honesty and transparency in regards to the personal data they collect, store and use. Google Analytics is a very important tool that Digital Marketing and SEO agencies use on a daily basis – the data collected helps companies optimise their website and get the best possible results. However, the data collected falls under 'personal data'. We wanted to know what it meant for websites, and the procedures they have to put in place moving forward. Find out about it here.
7. Bing Ads banned any ads promoting cryptocurrency
Paid promotion for cryptocurrency took another hit in May, when Bing Ads announced that they were banning cryptocurrency ads – the policy come into effect in June. They chose to take this action, "because cryptocurrency and related products are not regulated, we have found them to present a possible elevated risk to our users with the potential for bad actors to participate in predatory behaviours, or otherwise scam consumers." Check it out here.
8. Alexa has dropped in popularity as a baby name since the introduction of Amazon's Alexa
According to the University of Maryland, it has been reported that the name 'Alexa' has declined in popularity since the launch of Amazon's AI voice assistant, Alexa in 2014. They stated that 3,883 babies were named 'Alexa' in 2016, compared to 6,050 in 2015. The study had also highlighted that 'Siri' was not a terribly popular name, but had peaked two years prior to Apple's voice assitant, Siri, in 2011. Read more about it here.
9. We held our first ever SearchBHM Digital Marketing Event in Birmingham 
At the beginning of May, we held our first every SearchBHM event – a Digital Marketing event in Brum! Creatives of the SEO, Social Media, PPC and Digital PR sectors all met up, shared their tips and had a few (too many) drinks! The event was a huge success – we were thrilled that it had sold out a week before! We had Nick Wilsdon from Vidafone, Zak Edwards from Prezzybox and our very own Head of Search, Laura Hogan share their experiences of the industry. Check out the slides here.
10. Adobe acquired Magento for $1.68 billion
In May Adobe released a statement saying that they were acquiring CMS platform Magento for $1.68 billion. This purchase is great, as it gives Adobe a missing e-commerce platform piece that works in B2B and B2C contexts, slotting nicely in the company's Experience Cloud. Alongside this, it will help Adobe compete with their competitor, Salesforce. Find out more here.